You simply can't enjoy a ride when every time you turn your longboard it sounds like you are rolling over a small and squeaky animal. Or when you go in for a turn and you have to throw your body around like it's at a lousy disco party. 
Here is our step-by-step guide to getting your longboard trucks back to normal so you can get back out there and get your board on.
If your trucks are squeaky you need to find out where it is coming from. One of the reasons is the rubbers may be dry (no pun intended) or your bushings may be the source of the noise. below are 4 steps to silencing the noise in your trucks:
Take the Trucks off Your Board
When you take the trucks off your board, it is best to do them one at a time. While you have your trucks taken apart you can assess everything to see what maintenance needs to be done.
Do each of the steps below to one side of your longboard then repeat on the other. This way you know you are putting everything back together the right way and with the right parts. 
Here is a video to help you step-by-step with truck assembly:
 via Daddies Board Shop
Clean the Trucks With a Cloth - Rust is NOT Your Friend
I recommend using a microfiber cloth for this step because it helps to attract more dust and dirt than a regular towel or rag. Make sure to use a DRY CLOTH! A wet cloth can cause rusting, and rust is not your longboard's friend. Unless you are Salad Fingers you shouldn't want anything to do with rust.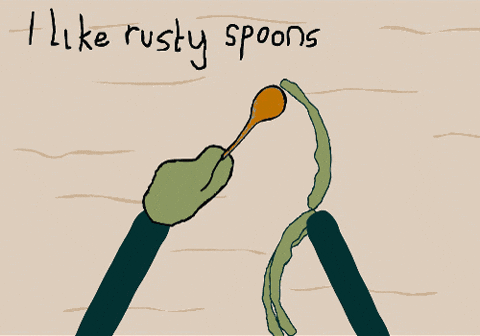 via giphy.com
Once rust sets in (especially on the balls of the bearings) they will more often than not need to be replaced. 
If your hardware already has rust, here are 3 quick steps you can take to clean off the rust and extend the life of your hardware
For example, if your bearings are rusty, once you have removed the bearings from their shield you can:
1. Soak the bearings in 95% rubbing alcohol - this helped remove most of the rust when we were riding in the rain on the coast. Soak the bearings for 15 minutes or so, you can determine about how long by how dirty the alcohol gets. The dirtier it is the cleaner your bearings should be.
2. Soak the bearings in vinegar - distilled white vinegar is what we used and it worked great! It seems to get rid of the rest of the rust after soaking for 20-30 minutes. 
3. With either method make sure to rinse the bearings in rubbing alcohol (we rinsed twice for good measure, so they were nice and clean). Once they are dry you can lubricate them with some Bones Speed Cream and reassemble them into your wheels.
It's a good idea to wipe your trucks and clean your bearings and components every once in awhile so you can keep them from getting too much dirt buildup; they get pretty dusty from all the shredding you do! The more maintenance you do now the less work you have for later.
If you are ever caught in the rain, like we were, make sure to dry your board out and check for rust. The best thing to do it ride your board once it is dry to keep the rust away completely, leaving your board too long without using it will cause more rusting.
When the rubber in the pivot cup gets too dried out, it can start making noise. It's just like a belt in a car - sometimes you can prolong the life of it by keeping it lubricated.
Take the wax and rub the it onto the rubber in the pivot cup. Oils are also available, but we prefer wax to oil because it doesn't attract as much dirt - and nobody likes dirty rubber!
Tip: using surf wax can be easier to work with because it is not as hard as skate wax, but you can use both!
Put the Trucks Back on
Follow the steps in the video from step 1 if you need help putting them back on.
Now you are good to go!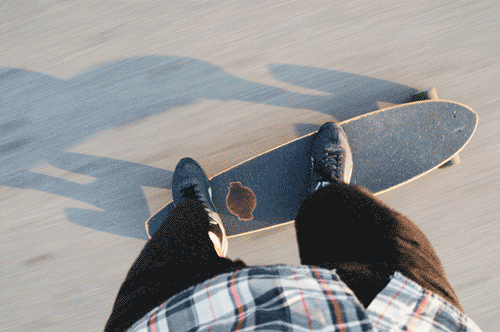 via giphy.com
If these steps don't solve your problem for long you may need to consider new trucks. Review Longboards has an article about the best longboard trucks here if you need help choosing a new set.
How did it go? Please leave questions below if you need more help with your trucks, and see you out there!
Kelsea
Leave a comment
Comments will be approved before showing up.